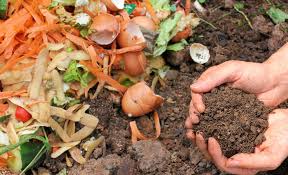 Here's How To Do It:
COLLECT your food scraps at home in a pail or other container. Although not required, you may line your pail or other container with a BPI certified Compostable Bag but NOT a Plastic Bag.
TRANSFER food scraps into a larger pail or bucket with a cover for weekly storage. It is recommended that food storage bins be kept indoors – either in the house or in the garage.
BRING your food scraps in a pail or bucket to the Rowayton Community Center to dispose of your food scraps. Food scraps can be transferred into the drop-off bins either in a BPI certified compostable bag or simply unbagged.
All material collected will be brought to a commercial composting facility where it will be turned into compost.
Drop-off Location and Hours:
The Food Scrap Recycling drop-off bins are located at the Rowayton Community Center (33 Highland Ave.), behind the library and across from the equipment garage.
Drop-offs can be made Wednesdays from 8:30 am to 1:30 pm.
There is no charge to drop off food scraps.
Accepted Items:
ALL FOOD, including:

Fruits and Vegetables (remove stickers, bands, ties)
Meat and Poultry (bones ok)
Fish and Shellfish (shells ok)
Dairy Products
Bread and Pasta
Chips and Snacks
Nuts and Seeds
Leftover, Spoiled and Expired Food (cooked ok)
Coffee Grounds (paper filters ok)

Tea Bags (no staples)
Paper Towels and Napkins (white only ok; NOT soiled with cleaning supplies)
Cut Flowers
Compostable Bags – BPI Certified (NO PLASTIC BAGS)
Items Not Accepted:
Plastic bags, plastic packaging and wrappers are never allowed in the bins. Plastic does not biodegrade and therefore will contaminate the compost. Use only compostable bags or no bags.
Baby/Hand wipes are never allowed in the bins. They are synthetic, so do not biodegrade and will contaminate the compost.
Please NO PET WASTE!
If unsure about an item, please email us before putting it in the bin: Composting@NorwalkCT.org.
Additional Information:
During the COVID-19 pandemic, the City of Norwalk will not sell the starter kits or compostable BPI bags
BPI certified Compostable Bags can be purchased at Whole Foods or online (Target, Amazon,etc.)
While this pandemic continues, use gloves to open the drop-off bins.
It is important to maintain physical distance between you and fellow citizens while dropping off your food waste
QUESTIONS? Please email Composting@NorwalkCT.org