– Charlotte Gannon, Chair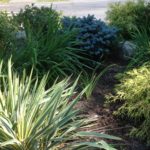 In 2009, the Rowayton Gardeners contracted with the City of Norwalk to maintain and care for McKinley Triangle as part of the city's Adopt-a-Spot program. The area was redesigned 2010 with boulders and drought resistant plantings.
Ongoing upkeep of the Triangle is a project the Gardeners oversee each year. Pictured here is the Triangle in August 2013. Plantings are mature and survived the July heat wave.
And here is a look at the garden in 2017, with work being done to preserve the plantings (and a precious nest) as the path through the Triangle is altered to bring it up to code.