In 2013 the Gardeners partnered with the 6th taxing District Commissioners in an advisory role to keep Pinkney Park pesticide free. Since then it has become a showcase for organic, chemical free gardening as the Gardeners have been collaborating with Historic Rowayton to maintain two very special areas in the park.
The Herb Garden – Ellen  Duggins,  Chair
The flagpole in Pinkney Park was dedicated long ago to former Rowayton Postmaster, Paul J. Rooney.  With an addition of a drip system that was funded by a grant from the 6th Taxing District in 2016, the herb garden took on a whole new dimension and now includes over 20 different varieties of herbs (many of them flowering) used for medicinal, cosmetic and culinary purposes. In 2018, metal plant labels were installed in each of the four quadrants so that visitors could learn the identity of the herbs planted there. Visitors are encouraged to snip, making gentle use of this community treasure.
Please contact Ellen Duggins for more information.
The Historic Rowayton Memorial Garden – Pamela Proctor, Chair
The Memorial Garden had its beginning in 1990 as the Historic Rowayton members donated plants to give it a start. It wasn't until 2012 after Sandy devastated the existing garden that the Gardeners stepped in to give a hand. In 2016 it became a Memorial Garden when vintage fencing from the Rowayton Railroad Depot (built in 1868) was restored and installed around the garden with a dedication plaque. The garden contains a wide variety of plant material – primarily perennial with the focus on native and pollinator friendly. Some annuals are added each spring as well as replacement plants that didn't survive the winter. The bloom time is late April through the first frost in October and this garden attracts many, many bees, butterflies and local birds.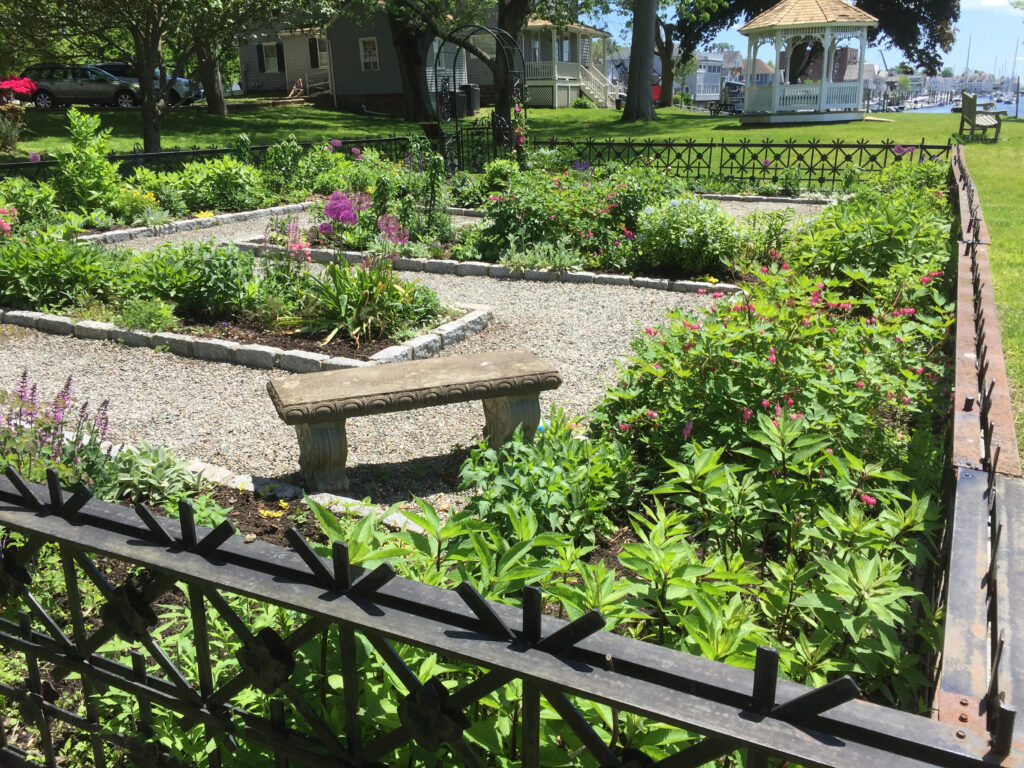 In June of 2020, the newly renovated Raymond Boathouse was grounded with large rocks and soil that were brought in with help of Tulip Tree Site Design. It was tweaked with a little more soil and rocks, along with some simple deer resistant conifers and perennials. With this improvement a new room was created between the Boathouse and the Memorial Garden, so the back area against fence needed addressing. An old stump of a Silver Maple became the anchor point for the edged garden bed area to the right, bringing in a little a more soil, a few rocks and deer resistant conifers to create a simple garden. This improvement is now part of the corner gardens in Pinkney Park.
Please contact Pamela Proctor for more information.