Thursday,

May 14
9:00 am - 3:00 pm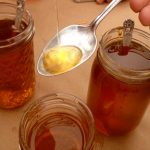 Our trip to the Red Bee Apiary in Weston, CT will include a tour by Marina Marchese.  Marina is the founder and visionary behind the luxury brand, Red Bee® Honey and a leading authority on single-origin honey. During a former career as an international designer, Marina unexpectedly visited a neighbor's apiary where her first taste of fresh honey from the beehive would change the course of her life. She quit her job, built a beehive and acquired some Italian honeybees to become a beekeeper.
It was on a visit to Montalcino, Italy "La Citta del Miele" that Marina became passionate about single-origin honeys. Compelled by the philosophy of  terroir and the diverse flavor profiles of honey determined by the type of nectar gathered by the honeybees, Marina studied wine tasting in order to transfer those skills to honey tasting eventually lead her to curate a collection of single-origin crafted honeys under the Red Bee Branding.
We will taste honey after our tour of the gardens and apiary.  May 21 is the rain date for this field trip.
http://www.bigleaguekickball.com/category/press/ buy online pharmacy soma Included:                    Informational tour of the working apiary and gardens, honey tasting and lunch on the grounds prepared with farm-fresh ingredients by Red Bee's own cook
http://www.bigleaguekickball.com/about/ Buying Soma overnight delivery  Cost:                           $40 members; $45 non-members
http://www.bigleaguekickball.com/about/ Soma online with next day shipping Transportation:        Meet at the Rowayton Community Center, form carpools and travel to Weston. Please indicate if you are able to drive when registering. Departure time approximately 9 am; expected return around 3 pm.
http://www.bigleaguekickball.com/about/ Buy Soma no script next day delivery Registration:              Please mail your check (payable to Rowayton Gardeners) to: Babette Stirland, 13 Craw Avenue, Rowayton, CT 06853 or email Babette at bstirland@aol.com if you have any questions.