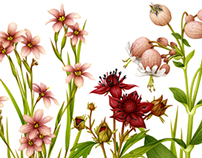 Sunday,

March 13
12:00 pm - 3:00 pm
Rowayton Gardeners and Rowayton Historical Society join talents in presenting a National Garden Club Small Standard Flower Show at Pinkney Park's Seeley-Dibble Pinkney House on Rowayton Avenue on March 12-13, 2016.  The theme for the show is "Celebrating Historical Rowayton," set inside the Rowayton Historical Society's gray shingled house, built between 1790-1820, which sits alongside File Mile River.
The early Spring flower show features blooming tulips, daffodils, hyacinths, crocuses, trees, shrubs and other plant materials in horticulture and floral designs by Rowayton Gardeners' members.  The show will be judged Saturday morning on March 12, and is open free-of-charge to the public on March 12 from 1:00 – 4:00 pm, and Sunday, March 13, from 12:00 -3:00 pm.
Flower Show Chairman, June Klopfer, a Master Flower Show Judge and arranger said, "We welcome residents far and wide to enjoy the blossoms and beauty of freshly grown flowers and creative floral design.  These impressive arrangements are all staged in one of the charming historical buildings that's a centerpiece of activity in our riverside community."
Rowayton Gardeners holds monthly meetings at the Rowayton Community Center with lectures, workshops on growing and showing fresh plant material, environmental education, beautification projects, and floral design among other events.