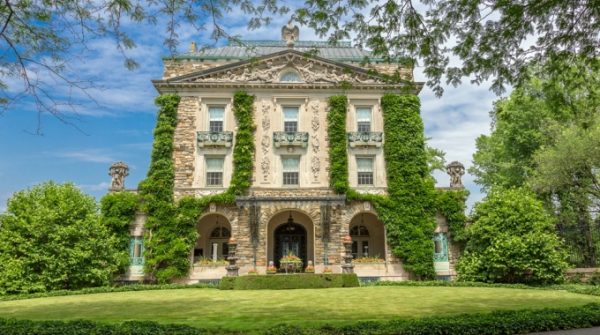 Thursday,

September 28
8:30 am - 3:00 pm
Don't miss our first outing of the season to KYKUIT, the Landmark National Trust, classical revival home to 4 generations of the Rockefeller family. Our docent-led tour will emphasize the extensive, terraced gardens with classical and contemprorary sculpture and mangificent views of the Hudson in early fall glory. A boxed lunch will be offered after the tour. Register on-line to hold your spot.  We will also see the lower floor of the home.
Meet at the Rowayton Community Center lower parking lot at 8:30 am to form carpools.  Let us know if you're willing to be a driver. Departure will be at 8:45 sharp!
We will drive to Philipsburg Manor, where we will split into 2 mini-bus groups for Kykuit: Group A – departs at 10 am and returns to Philipsburg Manor at 12.15 pm; Group B – departs at 10:15 am and returns to Philipsburg Manor at 12:30 pm. There will be ample time to explore the gift shop.
A boxed lunch prepared by Geordane's Market & Catering in Irvington, NY, will follow at Philipsburg Manor. Weather-permitting, lunch will be outside but an indoor space is available in case of rain.
We will return to Rowayton Community Center by 3 pm.
(There is quite a lot of walking on this tour, so sensible shoes are required.)
Cost:$55 members;  $65 non-members  Max 35
Registration: Member-only registration through Sept l4 deadline Sept 21; Non-member registration starts Sept 15 deadline Sept 21. Only receipt of your payment confirms registration.
Payment: Online payment is now available – JUST FILL IN THE FORM BELOW and then submit to reserve your spot.  You will be taken to PayPal where you may pay via your account OR with your credit card.
If you prefer to pay by mail, first register online, then submit the form and ignore the link to payment options. Immediately mail your check to Charlotte Gannon: 28 McKinley Street, Rowayton, CT 06853. We will match up your registration form with your check to confirm your reservation.
Cancellation: You will receive no refund unless your spot can be filled from our waitlist.
~~~~~~~~~~~~~~~~~~~