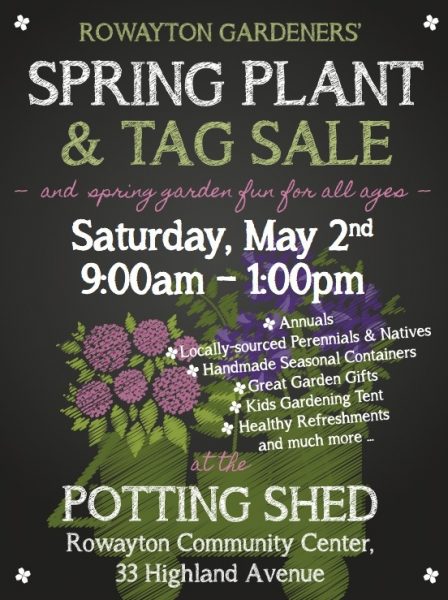 Thursday,

April 30
1:00 pm - 4:00 pm
This spring when you clean out your garage, tool shed, attic or basement keep our Tag Sale in mind. Please contact your friends and neighbors too. Items can be large or small, few or many, but should be in good, clean, workable and saleable condition.

We can accept:
any kind of garden tool
watering cans
lawn mowers
leaf blowers
flower pots
planters
decorative garden accents
floral artwork
bird feeders
vases
decorative household items
small furniture
Drop off donations to the Community Center at the Rowayton Gardeners Potting Shed behind the Library. 33 Highland Avenue
WE WILL BE OPEN TO RECEIVE ITEMS:
Wednesday April 29th 10 am – 1 pm
Thursday April 30th 1 – 4 pm
All proceeds from the May 2 Spring Plant & Tag Sale support civic beautification projects, community garden projects, environmental awareness, the Potting Shed and other beneficial programs championed by the Rowayton Gardeners.