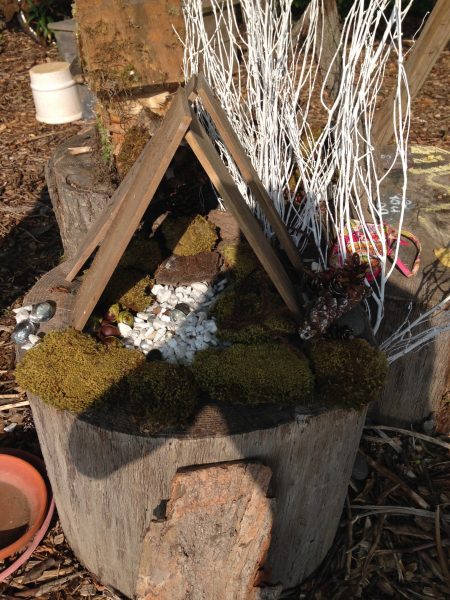 Fairy World is the ultimate free-play space at The Potting Shed.  There is nothing better than watching families step back and simply observe their children creating small shelters, teepees, kingdoms, etc… for our rarely-seen resident Rowayton fairy community.  Each week the "building materials" are replenished and changed to suit the seasons…
this week we had a fresh supply of acorns freshly scavenged by our wonderful volunteers, pinecones collected around town and from a member's father's property in Maine, large pieces of bark lovingly saved from logs around our various properties where we garden in town, bags of milkweed pods & fluff make for cozy and creative fairy sofas, beds & pillows.  We save twigs, leaves, interesting branches, tops from beautiful autumn grasses, sea shells & cool pebbles which all become incorporated in one thoughtful way or another. Our community's children drop by Fairy World while a sibling plays soccer, or while mom & dad walk their dog in the dog park, or after dropping off a book at the library.  It is truly a loved and well-used space. It might very well be the most popular feature at the Potting Shed for the under 12 set. 
We always have this area "open" for kids to build / create in but will feature it prominently in our upcoming October Soccer Saturday program where we invite kids to utilize our more special supplies & freshly scavenged items along with glue guns galore to create a special fairy home that we invite our guests to take home if they would like.