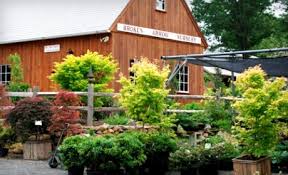 Since its inception, Broken Arrow Nursery has striven to be one of the premier specialty nurseries of woody plants and perennials in the country.  Plant contacts worldwide allow its owners to acquire and propagate the "latest and greatest" for their gardening friends. As a result of their determined collecting efforts, the number of new plant offerings continues to expand. More information about the nursery, the details of our field trip and a registration instructions are included here:
With the recent loss of several mail-order nurseries, the need for Broken Arrow to provide rare and unusual plant sources has increased.  While Broken Arrow has always been dedicated to growing the uncommon and underutilized, they continue to offer older, time-tested plants along with an extensive collection of native plants. Every effort is made to cater to all types of gardeners, from the fanatic collector to those who just want to have a nice yard.  More information about Broken Arrow is available on their website.
order Soma WITHOUT SCRIPT ROWAYTON GARDENERS FIELD TRIP
http://www.bigleaguekickball.com/category/press/ cheap soma online consultation THURSDAY, MAY 15, 2014
soma cod saturday 9 am – meet at Rowayton Community Center,
http://www.bigleaguekickball.com/category/press/ buy online soma without prescription form carpools and drive to Broken Arrow Nursery in Hamden, CT
http://www.bigleaguekickball.com/category/press/ soma same day delivery 2:30 pm – approximate return to Rowayton Community Center
http://shareholderacademy.com/?q=semalt.com Trip Includes:
follow url Tour of the nursery
Cheap Valium Purchase Presentation: "Fun with Color:  Variegated Foliage in the Garden"  Buy Ambien In Australia by Adam Wheeler.
http://shareholderacademy.com/blog/tag/faq/ Box lunches provided by "Eli's on Whitney" and served at the nursery.
Time to shop!
 Cost: $30 per person – members and/or guest
 To reserve your space, please mail your check (payable to Rowayton Gardeners) to:
Judy Heilmann, 3 McKinley Street, Rowayton, CT  06853
e-mail:  judyheilmann47@gmail.com