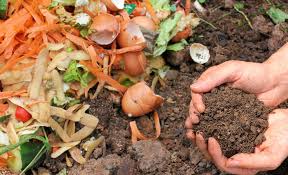 ANNOUNCING the rollout of the City of Norwalk Food Waste Collection pilot program starting on Wednesday, April 29th, 2020 at the Rowayton Community Center, 33 Highland Avenue.  This is the perfect time to make good use of this program while we are all home and cooking for the whole family!!!! Food waste collection bins will be available for the drop off of food waste from the hours of 8:30 am until 1:30 pm on Wednesdays starting on April 29th.
Food may dropped off in paper, BPI compostable bags (see below) or unbagged in bins that will be found behind the Library and across from the equipment garage at the Community Center. A list of acceptable items, and forbidden items, ("Food Scrapping Guide") can be found on the
City of Norwalk website
. If you have concerns about something that can be collected, please email 
composting@Norwalkct.org
.
Please know that NO PLASTIC of any kind (bags, packaging, wraps) is allowed.  Similarly, NO PET WASTE should be included.  Both plastic and pet waste contaminate the compost.  A full description as to how to collect food waste and deliver it is found here:
http://rowaytongardeners.org/norwalk-food-scrapping-guide/
.
BPI compostable bags can be found locally at Whole Foods and also online at Amazon and Target.
During the Covid-19 pandemic, it is important to remember to maintain physical distance while dropping off food scraps and to wear gloves while touching the bins.  When restrictions ease, the City of Norwalk will sell starter kits and the BPI bags to those interested.
Thank you to the Mayor and Department of Public Works for working closely with the 6th Taxing District Commissioners, Tammy Langalis, John Igneri and Mike Barbis,  and Common Council members, George Tsiranides, Tom Livingston and Lisa Shanahan, for bringing this pilot program to our District.  If successful, the Mayor and DPW look forward to rolling this program out to the rest of the City.