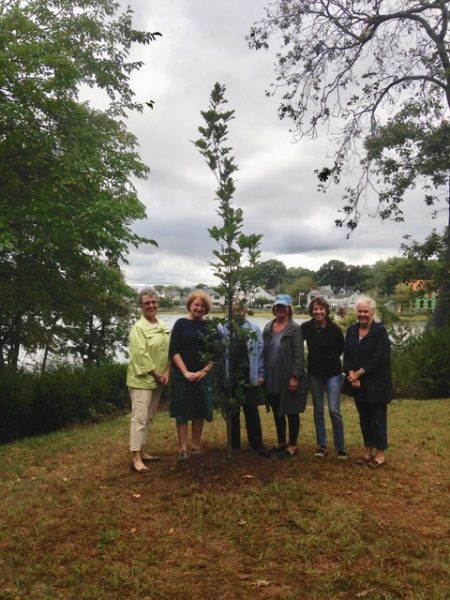 The Rowayton Gardeners took advantage of a Federated Garden Clubs of CT grant to purchase and plant a beautiful columnar oak tree at Farm Creek Preserve recently. Several members welcomed the tall young oak to its new home.
Click on the arrow to the right to advance slides…
Choice of Public Location
After some consideration, we chose the Norwalk Land Trust Farm Creek Nature Preserve. This is a 16 acre parcel of land that was saved from development by grass roots fund raising efforts from Rowayton residents. It is a place that is valued for its beauty and appreciated for its place that is can never be developed. People from all over Norwalk come to walk the trails. Families come with their children to bird watch and scout fiddler crabs. Each spring the every fourth grade class in the Norwalk Public School System takes a field trip to Farm Creek to learn about nature and ecology. The preserve lost many very old oaks during Hurricanes Irene and Sandy. We felt that replacing an oak at Farm Creek would be a wonderful way to thank the Norwalk Land Trust for its stewardship to open space preservation in our community.
Write-up on our oak tree
We chose this particular variety because we felt it had the best chance of thriving at the Farm Creek, which is on an estuary into Long Island Sound. It is on a bluff. It can be dry and windy. This particular variety of oak, which is a cross between our native Quercus bicolor and a Quercus rober, has shown good resistance to drought. Moreover, because of its columnar form, we believe it will be tougher in this windy site.