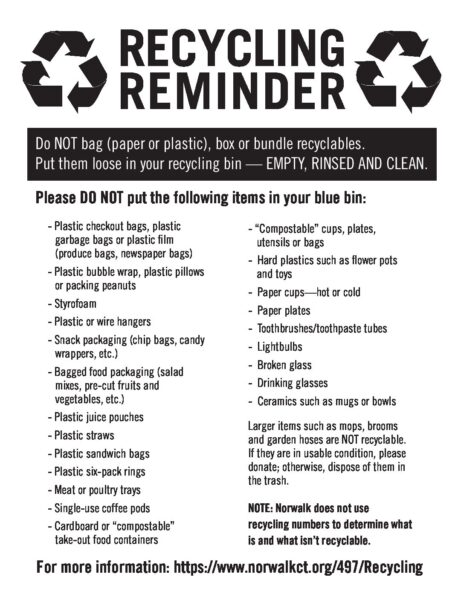 Do NOT bag (paper or plastic), box or bundle recyclables! Put them loose in your recycling bin, EMPTY, RINSED AND CLEAN.  Please do NOT put the following items in your blue bin: plastic checkout bags, plastic garbage bags or plastic film (produce bags, newspaper bags), plastic bubble wrap, plastic pillows or packing peanuts, Styrofoam, plastic or wire hangers, snack packaging (chip bags, candy wrappers, etc.), bagged food packaging (salad mixes, pre-cut fruits and vegetables, etc.), plastic juice pouches, plastic straws…
–  Plastic sandwich bags
–  Plastic six-pack rings
–  Meat or poultry trays
–  Single-use coffee pods
–  Cardboard or "compostable" take-out food containers

– "Compostable" cups, plates, utensils or bags

– Hard plastics such as flower pots and toys

– Paper cups—hot or cold
– Paper plates
– Toothbrushes/toothpaste tubes
– Lightbulbs
– Broken glass
– Drinking glasses
– Ceramics such as mugs or bowls

Larger items such as mops, brooms and garden hoses are NOT recyclable. If they are in usable condition, please donate; otherwise, dispose of them in the trash.

NOTE: Norwalk does not use recycling numbers to determine what is and what isn't recyclable.